Brian Humphrey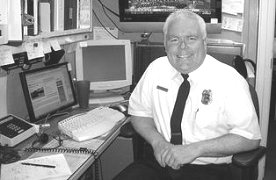 Public Information Officer,
Los Angeles Fire Dept.
...is a lifelong California resident, celebrating his 25th year as a member of the Los Angeles Fire Department.
Joining the LAFD in 1985, he has served with distinction, earning honors on the battle lines of countless storms, conflagrations and disasters - including the Los Angeles riots of 1992 that caused more than $1 billion in property damage and left nearly six dozen dead.
In 1993, Brian was appointed to a Command Staff position as Public Information Officer prior to that year's monumental wildfires and the Northridge Earthquake in the year that followed.
Brian has gained the respect of citizens and reporters alike for his firm but fair handling of sensitive issues and dramatic events, including the 1993 Burlington Avenue arson blaze that took a dozen innocent lives.
During the past seventeen years, Brian has worked full-time in external relations for the Los Angeles Fire Department, dealing firsthand with all aspects of print, radio, television and internet journalism.
Frequently quoted in trade journals, scientific periodicals and the nation's leading newspapers, Brian is a prime source of life safety information for government agencies, members of the public, academia and the entertainment industry.
Brian is active in a variety of government and diplomatic affairs, including service as an LAFD Terrorism Liaison Officer, public safety ambassador for visiting dignitaries and manager of the popular LAFD News & Information blog.
Traveling extensively throughout North America, he remains a popular consultant and widely regarded subject matter expert on emerging technologies for public safety and homeland security.
In any given month, Brian can be found offering formal testimony and training to federal agencies, executive panels and commissions regarding crisis management and risk communications, all as he says... "to help people lead safer, healthier and more productive lives".
Follow Brian on Twitter (@BrianHumphrey)